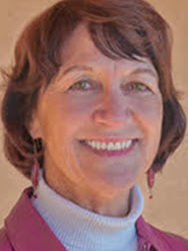 By Mary McPhail Gray
Board Chair
The shiny blue pickup drives into the Enos Garcia Elementary School parking lot  pulling a large red horse trailer. Out steps Madalena Miera, a CCSS Taos Behavioral Health worker, and opens the gate to lead out two miniature horses, Mama and Mickey.  Across the lot dash a group of smiling elementary students with joy in their eyes. The pony therapy session is beginning!
Miera and Siena Sanderson,  with Los Cumbres Community Service, had initiated some work with  vulnerable youth a year ago — until funding ran out. Taos Behavioral Health then identified funding and a structure to start a program this fall at Enos Garcia and Taos Middle School.  The program is based on Miera's work over the past four years with her two miniature ponies and her review of the research on equine therapy and youth.
The youth coming to the classes have been referred by clinicians serving the schools with approval from their parents.  The experience has been life changing — or at least significant behavior changing — for a number of the youth.  These changes — observed by clinicians and teachers and the pony therapy staff — echo research findings:  Higher self-esteem, increased  self-control, greater focus, calm, joy, and trust.