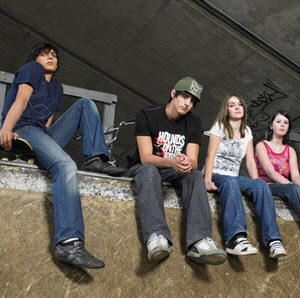 TBH Youth Programs are designed to teach at-risk youth the emotional and social skills needed for a productive life — and allow them to practice those skills in a safe environment.
We also work to expand their horizons by introducing them to new cultural and physical activities.
Current Programs
Current programs for Taos County youth include:
In-School Counseling.  Individual counseling by TBH clinicians and support groups are offered to adolescents and teens at the school site.  This program addresses the needs of high-risk youth in schools, Juvenile Probation Office and the Juvenile Detention Center.
Familia y Mundo (FYM).  Famila y Mundo is an after-school therapeutic  program taught at Ranchos Elementary School where students receive both group therapy and individual therapy. They also do arts and crafts, receive help with homework, engage in physical fitness on the playground, and practice martial arts at Defendu Academy.
SUCCESS Center
Currently SUCCESS program offers Individual, family, group, and Milieu therapy with a theoretic foundation in family systems and client centered therapy. Active group therapy includes Girls group, Boys Group and LGBTQIA group with a desire to expand to meet additional group needs.  

Summer (and Holiday) Youth Camp.  During the summer and holidays, Familia y Mundo  turns into a day camp with individual and group therapy, along with many fun activities and community outings. This camp is for 5-to-10-year-olds.  The Yermos y Montaños day camp provides similar services for youth aged 10 to 13.  Activities for this group include rock climbing and hiking.
Gang Resistance is Powerful (GRIP).  GRIP offers elementary school students the emotional and social skills needed to avoid gang involvement.  The program teaches anti-bullying and encourages students to seek alternate, healthier activities such as sports, art, drama, or special-interest academic work. GRIP classes are taught in most elementary schools in the Taos School District.
The Art of Nonviolence.   The Art of Nonviolence helps youth channel negative emotions into positive activities. This program is one of the most visible and recognized of all our endeavors because the students' art is exhibited at the Taos Center for the Arts.
How to Make a Referral
If you would like to refer a student to one of the TBH programs, please email Simon Torrez or call him at 575-758-4297.