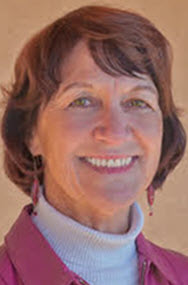 By Mary McPhail Gray
NVW Board Chair
When you look into Karen House's piercing hazel eyes, you see strength, compassion and commitment.  A fifth generation New Mexican, Karen is a licensed clinical counselor who returned to Taos to lead programs at Nonviolence Works after a recent three-year stint of serving as an embedded counselor with US Special Operations.
Deeply committed to supporting veterans, Karen has used a variety of therapies to reach those who returned from service with deep trauma. A Special Forces widow, House feels obligated to go where she is needed in order to effectively treat service members. A maintenance group commander has told the story to hundreds about the time House completed a counseling session on the wing of an AC 130-H Spectre Gunship.  The airman was explaining his task as a fuel systems specialist, when a young maintenance troop quietly said "You're a counselor, aren't you?"  And House was there.
House has been willing to go to extreme environments where she is able to fit in and relate to the experiences of the soldiers. She has served as a military family life counselor for a total of ten years.  House is considered an expert in the psychology of remote warfare. In contrast to some therapists who have never been actively involved in day-to-day life on a military base, House has been embedded at the operational level. Just prior to returning to Nonviolence Works as the clinical director, House served three months at Thule Air Base, 800 miles north of the Arctic Circle.
House is proud of her ability to use a variety of nonconventional therapies to reach clients. With a Master's of Arts in counseling and psychology and a minor in adventure/wilderness programming, House believes strongly in the power of the natural environment and wilderness challenges to heal trauma.
She is also skilled at using CBT (Cognitive Behavioral Therapy), MST (Multisystemic Therapy), EMDR (Eye Movement Desensitization and Reprocessing, and mindfulness de-escalation techniques with clients.  She is completing a second master's degree—in social work—in order to expand her flexibility.
As an entrepreneur, House maintained a private counseling practice in Taos for seven years and was instrumental in bringing grant funding for truancy prevention to Taos schools. She is the founder and executive director of The Challenge Group, which provided educational and therapeutic adventures from 1999 to 2012 for people facing significant challenges. House is passionate about whitewater, and has been a rafting guide with New Wave Rafting Company for 20+ years.
House returned to Nonviolence Works in order to participate in the development of programs of critical need in Taos—a residential treatment program for adolescent males and a supportive multi-service program for veterans. House has been the clinical director at San Cristobal Treatment Center, a wilderness-based program for young men with addiction, and family resource director at Taos Charter School.  She brings these experiences to enhance her role in supervising a variety of clinical programs at NVW.
House was particularly drawn to return to work at NVW because of its commitment to providing services needed by the community. She sees herself as a strong community advocate—designing programs that work for the youth, families and veterans of Northern New Mexico.
Her sparkling green eyes also light up during her favorite pastimes: Being a tia to her niece and nephew and historical costuming and embroidery.
NVW has the largest staff of behavioral health social workers and counselors in northern New Mexico. If you need help, call us: 575-779-4297  www.nonviolenceworks.us 
Mary McPhail Gray is the board chair of NVW and can be reached at mcphailconsulting@gmail.com or 575-779-3126.